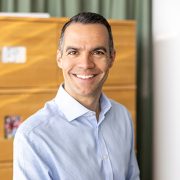 Global Digital Engagement Catalyst Leader, Roche
Panos Papakonstantinou is a Digital Engagement Catalyst Leader with Roche. Panos has exceptional knowledge and expertise in digital transformation, agile ways of working, and a proven ability to coach, connect and inspire. Panos is leading the affiliate's digital transformation acceleration, through orchestrating and connecting global opportunities with affiliates, evaluating specific digital customer engagement innovation, experimentation, and scaling up innovation which can help achieve exceptional customer experience and ultimately deliver better outcomes for patients.
Prior to joining Roche, Panos was part of Novartis for more than 10 years holding multiple leadership roles in digital transformation. At the latest he led the conceptualization and development of a new digital therapeutic for patients, and prior he headed the Digital Commercial Region of Europe, reporting to the Chief Commercial Officer for Europe and leading a team to achieve impact focusing on digital commercial approach, brand strategy effectiveness and simplification.
He holds an international MBA and a Master's degree in electrical and computer engineering. In recent years, Panos was a key contributor to several whitepaper publications about marketing in the pharmaceutical industry and gave several keynotes at international conferences focusing on Digital.