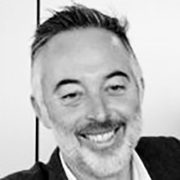 Head, Digital and Innovation, Oncology Europe & Canada at AstraZeneca
David Dellamonica has joined AstraZeneca Oncology in 2021 as Head Digital & Innovation Europe and Canada. David is leading the era of precision oncology (Cross TAs) in EUCAN to improve early patient ID, diagnosis, optimize clinical development, and accelerate adoption of innovative medications along the care pathway. Member of IMI EFPIA projects: H2O, OPTIMA,…

Prior joining AstraZeneca Oncology in Switzerland, David worked 4 years at Amgen Europe as Head of Digital & Innovation Value Based Partnerships – DEEP AI Platform founder, EIT health & EFPIA board member.

Over the past 4 years David has focused on advancing Amgen Europe's digital and partnership strategy, including delivering integrated "beyond the molecule" projects while extending Amgen's capabilities in using AI/ML to solve critical business problems and fostered a true innovation and partnership climate.

Previously at Sanofi's Global Integrated Care Diabetes & Cardiovascular division, as global head of innovation. Previously, David spent 2.5 years as head of patient advocacy and innovation within the global cardiovascular PCSK-9 Development and Launch Unit, based in Paris and the USA.

Before joining Sanofi, David spent 6 years in the biotech/start-up world, acting as founding CEO of Theralpha, a cancer pain management focused biotech, and founding COO at TxCell (Acquired by Sangamo) , a listed NASDAQ company leading cellular immunotherapy.

Prior to this David was director of life sciences for the International Trade and Development organization where he founded and organized the competitiveness cluster Eurobiomed, based in Marseille, France. David started his career as medical marketing associate at Eli Lilly.

David has an MSc in Business from Paris School of business, France, a master trainer in patient self-management at Stanford University School of Medicine, Palo Alto, USA, Leadership and Artificial Intelligence from MIT Management Sloan School in Cambridge USA.